What is Breast Reduction?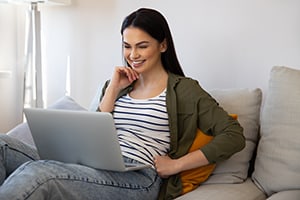 Breast reduction is a plastic surgical procedure designed to decrease the size/volume of the breasts while simultaneously improving their contour, symmetry, and position on the chest. In addition to its aesthetic benefits, this treatment can significantly diminish—or even completely resolve—physical and/or psychological issues associated with having overly large breasts. Consequently, it continually earns one of the highest rates of patient satisfaction among all plastic surgery procedures performed each year.
Kelowna plastic surgeon Brian J. Miller, MD has over 15 years of experience in performing breast reduction surgery to meet the unique needs and goals of individuals who seek his care. By tailoring a plan based on your specific case, he can help you achieve a smaller, more proportionate breast size and improved quality of life.
To learn more about breast reduction, we encourage you to continue reading the sections below, or simply reach out to us today to schedule a consultation with Dr. Miller.
What Are the Benefits of Breast Reduction?
Potential benefits of breast reduction surgery include physical, functional, and psychological improvements. By decreasing the size and volume of breasts, patients may experience:
Minimized back, neck, and shoulder pain
Improved overall shape and symmetry of the breasts
Ability to wear a wider variety of clothing
A boost in self-confidence
Am I a Candidate for Breast Reduction?
Good candidates for breast reduction typically include women who can relate to one or more of the following issues:
Breasts that are disproportionately large for one's frame
Chronic back, neck, and shoulder pain caused by the weight of the breasts
Tender and/or irritating grooves and indentations created by bra strap pressure
Skin rashes and/or infections underneath the breasts
Discomfort when exercising, playing sports, or participating in physical activity
Difficulty finding properly fitting bras, swimsuits, and/or articles of clothing
Self-consciousness and/or unwanted attention related to one's breasts
What Breast Reduction Techniques are Available?
Incisions for breast reduction surgery are typically made in three locations: around the areola; from the areola to the base of the breast; or following the crease underneath the breast. Those incisions can be implemented utilizing a few different surgical techniques. The method used will be determined by the patient's breast anatomy, the amount of fat or tissue that needs to be removed, and their individual reshaping goals.
Vertical: Also known as a "lollipop" technique, vertical breast reduction can be ideal for those looking for moderate changes. With an incision around the edge of the areola then to the breast crease below, this method allows for the removal of fat and glandular tissue.
Inverted T: The inverted T technique is often best for those needing greater breast reduction and reshaping. Also known as an "anchor" or "wise pattern" method, this approach utilizes the same incision as the vertical technique, but with an additional one following the breast crease. This technique allows more tissue to be removed.
How Is the Breast Reduction Procedure Performed?
Breast reduction surgery is generally performed using a wise pattern (anchor-shaped) incision, though a vertical (lollipop) incision can sometimes be employed for patients who require only moderate tissue removal and lifting. After making the incision, Dr. Miller will carefully remove excess breast tissue and skin, lift the breasts to an optimal position, and reshape the tissue to optimize the final contour. If necessary, liposuction may also be utilized to eliminate fat on the sides of the chest and enhance the overall outcome. The breast reduction procedure usually takes approximately two hours to complete, and the majority of patients can return home later the same day with the aid of a friend or family member.
What Can I Expect During Recovery from Breast Reduction?
The recovery experience following breast reduction surgery varies by patient, but most women can resume office work, school, and/or other non-strenuous activities within the first one to two weeks. Some bruising and swelling is common initially, though these symptoms should subside over time. A mild degree of discomfort can also be expected within the first few post-operative days, but this can typically be managed with medication, if necessary. To promote healing and help ensure optimal results, all vigorous activities—including most exercise, sports, etc.—will need to be avoided for at least four weeks, after which time patients can begin a gradual return to more strenuous activity.
Will I Need a Breast Lift with My Breast Reduction?
Breast reduction surgery removes excess skin, fat, and glandular tissue in order to decrease the size and weight of the breast and also usually lifts the breast. This involves elevating the nipple/areola to a higher more aesthetic position on the breast mound, and improving shape through the removal of loose or excess skin. A breast reduction can be thought of as a breast lift (mastopexy) with the added goal of reducing the size of the breast. Dr. Miller will customize the specifics of your surgery to meet your needs and aesthetic goals.
When Will I See My Breast Reduction Results?
With breast reduction surgery, the change in breast size and shape is usually apparent immediately after the surgery; however, initial breast swelling may mask some of the changes. The final results of your breast reduction should be apparent within two to three months following surgery as swelling and other side effects fade. Moreover, strict adherence to your personalized aftercare instructions can greatly improve your chances of long-lasting results. This includes resting for the appropriate amount of time, wearing any prescribed bras or garments, and refraining from vigorous exercise until you are cleared to resume your workouts.
What Will My Breast Reduction Scars Look Like?
Breast reduction surgery results in scars around the nipple/areola, below the nipple, and possibly along the breast crease (inframammary fold). The scar pattern depends on the amount of skin and tissue being removed. Dr. Miller always places the incisions where they create as little noticeable scarring as possible. Scars can typically be hidden by a bra or bikini top and should fade as you heal.
How Much Does Breast Reduction Cost?
The precise cost of your breast reduction procedure will depend on the surgical techniques utilized, complexity of treatment, anesthesia fees, surgeon's fees, post-surgical garments, and expenses associated with the operating facility. During your consultation, our team can discuss the final cost, as well as your options for payment methods, to make the payment process as stress-free as possible for you. Feel free to direct any financial questions to our friendly staff.
Is a Non-Surgical Breast Reduction Possible?
Typically, breast reduction concerns and goals are best addressed with a surgical procedure performed by an experienced plastic surgeon. This can allow for excess fat and tissue to be effectively removed. "Breast reduction exercises" have been claimed to reduce the size and volume of a patient's chest using more natural methods, but those workouts are not likely to effectively decrease all of the fatty tissue, and they cannot address skin laxity or reshape the breasts.
To learn more about breast reduction, or to schedule a consultation with Dr. Miller, please contact our office today at (250) 868-4870 or complete our online contact form.