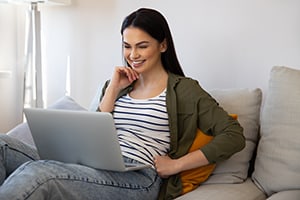 Breast reduction is a plastic surgical procedure designed to decrease the size/volume of the breasts while simultaneously improving their contour, symmetry, and position on the chest. In addition to its aesthetic benefits, this treatment can significantly diminish—or even completely resolve—physical and/or psychological issues associated with having overly large breasts. Consequently, it continually earns one of the highest rates of patient satisfaction among all plastic surgery procedures performed each year.
Kelowna plastic surgeon Brian J. Miller, MD has over 15 years of experience in performing breast reduction surgery to meet the unique needs and goals of individuals who seek his care. By tailoring a plan based on your specific case, he can help you achieve a smaller, more proportionate breast size and improved quality of life.
To learn more about breast reduction, we encourage you to continue reading the sections below, or simply reach out to us today to schedule a consultation with Dr. Miller.
Am I a Candidate for Breast Reduction?
Good candidates for breast reduction typically include women who can relate to one or more of the following issues:
Breasts that are disproportionately large for one's frame
Chronic back, neck, and shoulder pain caused by the weight of the breasts
Tender and/or irritating grooves and indentations created by bra strap pressure
Skin rashes and/or infections underneath the breasts
Discomfort when exercising, playing sports, or participating in physical activity
Difficulty finding properly fitting bras, swimsuits, and/or articles of clothing
Self-consciousness and/or unwanted attention related to one's breasts
How Is the Breast Reduction Procedure Performed?
Breast reduction surgery is generally performed using a wise pattern (anchor-shaped) incision, though a vertical (lollipop) incision can sometimes be employed for patients who require only moderate tissue removal and lifting. After making the incision, Dr. Miller will carefully remove excess breast tissue and skin, lift the breasts to an optimal position, and reshape the tissue to optimize the final contour. If necessary, liposuction may also be utilized to eliminate fat on the sides of the chest and enhance the overall outcome. The breast reduction procedure usually takes approximately two hours to complete, and the majority of patients can return home later the same day with the aid of a friend or family member.
What Can I Expect During Recovery from Breast Reduction?
The recovery experience following breast reduction surgery varies by patient, but most women can resume office work, school, and/or other non-strenuous activities within the first one to two weeks. Some bruising and swelling is common initially, though these symptoms should subside over time. A mild degree of discomfort can also be expected within the first few postoperative days, but this can typically be managed with medication, if necessary. To promote healing and help ensure optimal results, all vigorous activities—including most exercise, sports, etc.—will need to be avoided for at least four weeks, after which time patients can begin a gradual return to more strenuous activity.