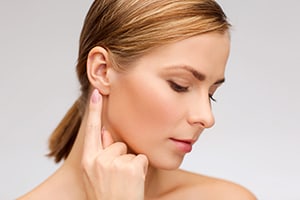 Otoplasty is a cosmetic procedure designed to reposition and/or reshape either one or both ears to restore balance to the facial appearance. Patients often seek otoplasty surgery to correct ears that are prominent or protruding. For over 15 years, Kelowna plastic surgeon Brian J. Miller, MD has been customizing otoplasty treatment plans for patients who would like to address these concerns and others associated with the appearance of their ears. Ear shape deformities and irregular features can also be corrected with the help of otoplasty. Depending on the exact source of your concerns, Dr. Miller will personalize his approach to treatment in order to deliver proportional, natural-looking results.
More information on otoplasty can be found below. If you have questions, or if you would like to schedule a consultation with Dr. Miller, please contact our office today. 
What Is Otoplasty?
Otoplasty is a surgical procedure that can correct protruding, prominent, or deformed ears in children and adults that can oftentimes be a source of insecurity. Dr. Miller performs the surgery using advanced techniques to improve the ear shape and/or readjust the ears' projection to achieve an improved sense of facial balance. Structural abnormalities in the ears can also be addressed during the procedure. Otoplasty can provide aesthetically-pleasing outcomes for patients of all ages so that they can feel more confident in their appearance.
Am I a Candidate for Otoplasty?
Good candidates for otoplasty are usually children or adults who are negatively impacted by large or protruding ears. A child's ear cartilage must reach the majority of maturation, which is usually at approximately five years of age, before they can undergo otoplasty. However, there is no maximum age limit for otoplasty. Patients who are in good general health, do not smoke, have realistic expectations, and have a positive outlook on the surgery are usually good candidates for the procedure.
 
How Is the Otoplasty Procedure Performed?
Otoplasty is usually performed under general anesthesia. Dr. Miller begins the otoplasty procedure by making a small incision in the natural crease behind the ear. He is then able to remove skin and reshape the cartilage through until the ear is at its desired shape and position. If necessary, Dr. Miller will use the same technique on the other ear to keep the results as symmetrical as possible. Patients can typically expect surgery to be complete within one to two hours. 
What Can I Expect During Otoplasty Recovery?
Treated ears should be wrapped in soft dressings following otoplasty. Dr. Miller will advise when the dressings can be removed. For the first week, we usually recommend that patients sleep on their backs with their heads elevated for optimal comfort during recovery. After the first week, patients can return to their normal daily activities; however, strenuous sports and other activities that are likely to cause trauma to the ears should be avoided up to three months. Patients may experience a minimal amount of pain and discomfort after otoplasty but can often very effectively manage their symptoms with over-the-counter pain medication.
How Long Will Otoplasty Results Last?
Otoplasty results are meant to last a lifetime, so patients can expect to enjoy their newly enhanced ears for many years to come. Very rarely do patients need additional revisions after the initial surgery. Patients can typically see improvement and immediate results after the soft dressings are removed. Otoplasty is considered a highly-rewarding procedure, allowing patients to benefit from their newly proportionate facial appearance indefinitely.
What Will My Scars From Otoplasty Look Like?
Dr. Miller makes otoplasty incisions behind the ear and in the natural creases where the ear connects to the side of the head, making them as discreet as possible. By having the incisions behind the ear, post-operative scarring should be virtually undetectable by others. As the healing process continues, the scars should fade and become less visible over time.
How Much Does Otoplasty Cost?
Otoplasty is customized to fit each individual's needs and goals, therefore, the cost of treatment will likely vary among patients. A few factors that may affect the overall price of otoplasty include the following:
Complexity of treatment
Anesthesia fees
Surgical facility costs
Post-operative medication
Surgeon's fees
During the consultation, our team can provide a more accurate quote on how much your otoplasty treatment will cost. We accept a variety of payment methods and can gladly help you decide which financing option is best for you.
Interested in otoplasty with Dr. Miller? We invite you to contact us today to schedule an appointment. You can reach us by calling (250) 868-4870 or by filling out our online contact form.