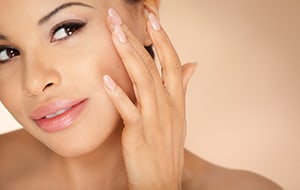 The natural aging process, gravity, and sun exposure can all take a toll on our facial skin. Signs of aging, such as drooping brows, lax forehead skin, frown lines, and deep upper facial creases can be improved with the help of a brow lift–also known as a forehead lift. With over 15 years of experience in helping patients achieve their aesthetic goals, Kelowna plastic surgeon Brian J. Miller, MD performs brow lift surgery to elevate the eyebrows to a more natural, youthful position, as well as to reduce a heavy brow appearance and smooth away lines and creases. If you are looking to rejuvenate the upper portion of your face, brow lift surgery may be an effective treatment option. 
To learn more about brow lift surgery and what the procedure entails, we encourage you to continue reading the sections provided below or to call our office today. A member of our team will be happy to help you schedule a consultation and answer any questions you may have. 
Am I a Candidate for Brow Lift Surgery?
Individuals who are bothered by consistently looking tired or angry due to sagging brows, frown lines, and/or forehead creases are usually good candidates for brow lift surgery. In general, patients should be in good health, possess a positive mindset about surgery, and have realistic expectations about their brow lift results.
How Is the Brow Lift Procedure Performed?
Depending on a patient's needs and goals, Dr. Miller will perform a browlift using longer incisions without an endoscope, or multiple shorter incisions with the assistance of an endoscope. An endoscope is a tiny camera, which can be inserted into the incisions to allow for a magnified view of underlying muscles and tissues that can be seen on a monitor. The incisions are placed along or behind the hairline in order to minimize or eliminate scar visibility. When necessary, muscle fibres that contribute to deep frown lines between the eyebrows can be removed and weakened in order to soften these unwanted creases. With either the endoscopic or non-endoscopic approach, the forehead skin and underlying soft tissues are elevated and mobilized so that they can be re-positioned in order elevate the eyebrows, and smooth the forehead region.
What Is the Brow Lift Recovery Process Like?
Patients may experience swelling, bruising, and forehead pressure after brow lift surgery. Pain medications can help alleviate these symptoms, and they usually subside within one to two weeks. Sleeping with your head elevated during the first week can help you feel more comfortable and reduce swelling. We usually recommend that patients do not return to work or regular daily activities until after two weeks. It is often okay to return to cardiovascular or aerobic exercise after four weeks; however, you should refrain from participating in strenuous exercises and activities for six weeks after surgery.